Budget Earth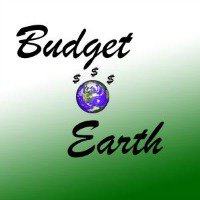 Budget Earth is a magazine-style publication focused on products, recipes, & tech used in their home and life, with their two Alaskan Malamutes (Reya & Ivi). Her review includes super cute videos of Reya and Ivi playing with our durable organic wool balls!
Read more...
Conscious Cat

Conscious Cat is a wonderful blog dedicated to conscious living for cats and their humans. Ingrid King reviews Purrfectplay's organic cat toys. Thank you!
Read more...
Lola The Rescue Cat

Lola: Diary of a Rescued Cat is the witty and sincere rags to riches story of a young cat abandoned in a garbage dumpster. We were so pleased to get such a kind and thoughtful review of our organic cat toys! Thank you Lola and Lola's special mom!
Read more...
About.com Review

Purrfectplay offers a wide variety of catnip toys to appeal to just about any feline. They have balls if you have a cat like my SheiKra that likes to chase things and play fetch, stuffed catnip carrots for chewing and mauling, and even a large catnip snake.
Read more...
Curlz and Swirlz

When Brighton ran off with a Carrot, Disco said, My turn, my turn! He has a thing for chewing on paper, so right off he grabbed the Purrfectplay business card, hahameow. You can't really tell, but he was really inhaling that organic nip!
Read more...
Catster

Cats definitely won't lose these mittens because each mitten is stuffed to the brim with a half-cup of fresh organic catnip. Purrfect Play also offers a variety of cat toys made in the USA, including snakes, mice and baby carrots.
Read more...
DogChannel.com - Dog World Editors Choice 2010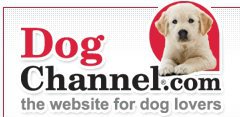 Even a seasoned "toy destroyer" couldn't make a dent in this soft, plush ball. Made from organic and dye-free materials, the wool ball was a favorite among many dogs.
Read more...
Totally Rosalie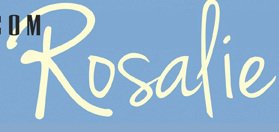 I met Pam, the owner of this company, a couple of months back when i attended the Philadelphia Cat Show. she opened my eyes to some things i've never heard of or thought about. Her green company uses only organic natural fibers to produce products that are crafted in her home-based workshop or in her local community members' homes
Read more...
Cat Fancy, October, 2009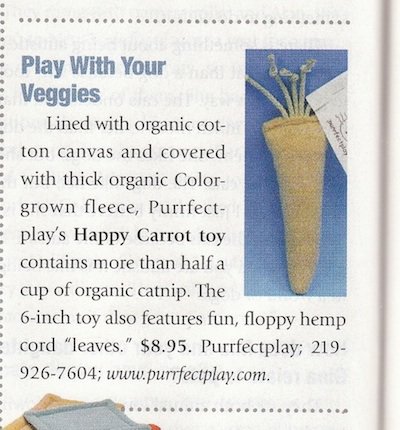 Healing Lifestyles & Spas, Nov/Dec 2008
Natural Home, October, 2008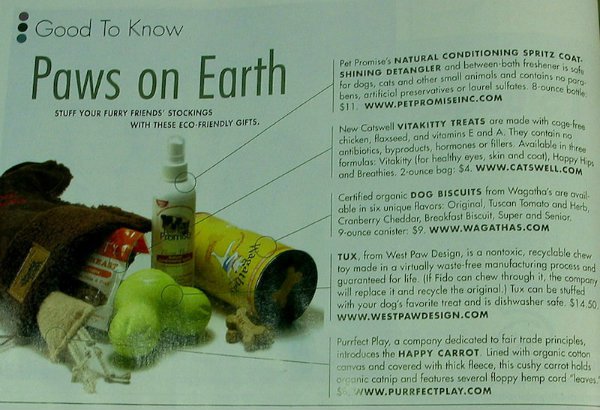 Green Little Cat

Organic Cat Toy by Purrfect Play is Cat Toy Crack
Read more...
Vegetarian Times, September 2005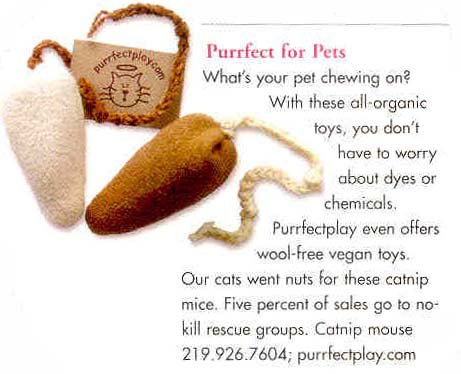 Chicago Tribune, May 20, 2007